Iran's crude oil exports to China tripled since 2020: Report TEHRAN, Jul. 30 (MNA) – Iran's crude oil shipments to China have tripled over the past three years, despite US sanctions targeting the Iranian oil exports, the latest figures by data analytics firm Kepler show. Kepler, which is also a major international tanker-tracking service, said
Iran's crude oil exports to China tripled since 2020: Report
TEHRAN, Jul. 30 (MNA) – Iran's crude oil shipments to China have tripled over the past three years, despite US sanctions targeting the Iranian oil exports, the latest figures by data analytics firm Kepler show.
Kepler, which is also a major international tanker-tracking service, said in a report that Iran's oil exports to China in 2017 and 2018 were 692,000 and 746,000 barrels per day (bpd), respectively.
However, those figures dropped to 466,000 and 324,000 bpd in 2019 and 2020, in the wake of the US unilateral withdrawal from the Iran nuclear agreement in May 2018 and its subsequent sanctions on the country's economy.
The report added that the exports surged to 585,000 and 766,000 bpd in 2021 and 2022 and ultimately hit 1 million bpd this year.
Kepler underlined that Iran's oil exports to China, the world's major importer of energy, are about 300,000 bpd more than the period the nuclear deal, or the JCPOA, was being implemented.
The report also showed that Iran's monthly oil exports to China set a new record in November 2022 with 1.3 million bpd, up from 1.1 million bpd in October 2018, a month before the beginning of the second round of anti-Iran sanctions.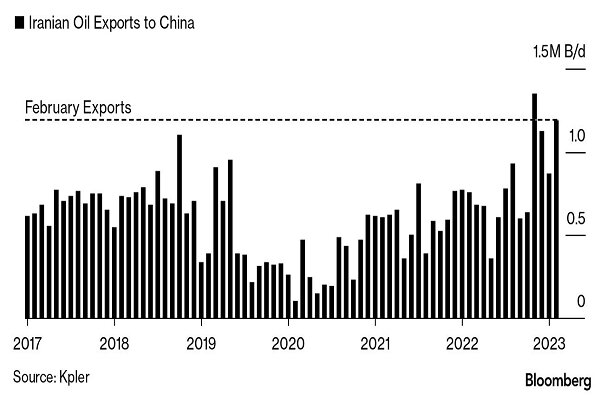 Meanwhile, the International Energy Agency (IEA) in a recent report titled "Oil 2023" confirmed Iran's daily export of one million barrels of oil to China.
"Despite severe financial restrictions, Iran managed to increase its crude oil production by 140,000 bpd in 2022 to reach an average of 2.5 million bar bpd," the agency said.
"It seems that Tehran has maintained the rapid sale of oil to China, which has been around 1 million bpd since the third quarter of last year."
According to the IEA's report, more exports have increased Iran's oil output since the beginning of the year by 350,000 to about 2.9 million bpd in May 2023.
China is Iran's largest trade partner. As two major countries targeted with US sanctions, Iran and China have increased their cooperation in recent years to offset the impact of the illegal bans on their economies.
The two countries signed a landmark 25-year partnership agreement in March 2021 in an attempt to strengthen their long-standing economic and political alliance.
SKH/PressTV
برچسب ها :
ناموجود